Whether or not you were "a pledge" in college, everyone loves films about fraternities. Maybe it's because by watching them we feel like we're getting back in touch with our younger selves. Maybe it's because they depict a carefree existence, before the responsibilities of adulthood have kicked in. Or maybe we just enjoy them for their constant stream of riotous, alcohol-induced antics and their abundance of attractive young students! Whatever the case may be, here are the 10 movie fraternities that you'd most like to party with (when you're not busy studying hard, of course!).
10. PCU – Balls and Shaft
As its name suggests, here's one movie fraternity that isn't very PC. This 1994 comedy features a gang of students struggling to bring the party lifestyle to a campus portrayed as suffering under the crushing yoke of hippies, radical feminism and general political correctness. This they try to achieve by being as outrageous as possible, which means anything from launching raw meat at their fellow students during a vegetarianism rally to initiation ceremonies involving rubber gloves and a cricket bat. Despite its relative obscurity compared to Animal House, this was definitely one of the more subversive college movies made in the 90s. It also featured an early appearance from Entourage's Jeremy Piven. (And yes, he's just as hilarious an idiot as he is when he plays Ari Gold.)
9. Harold and Kumar Go to White Castle – The Korean Frat
In the first movie of the Harold and Kumar trilogy, the eponymous "stoners" make a pit stop at Princeton University in an attempt to score some more marijuana. On the way, Korean-American Harold is cornered by a group of the most stereotypically nerdy Asian students in existence and forced to put up with their excessive number of questions about his job in investment banking. After escaping, however, it turns out that in their downtime the nerds like to blast music, have insane topless parties and drink vast quantities of alcohol. Some might say the protagonists should have done their homework before they ditched them!
8. School Daze – Gamma Phi Gamma
Spike Lee's second feature film is a musical about race and identity in the black community. Oh, and it's also a comedy about fraternity and sorority pledges! With their military discipline, uniforms and even coordinated dance moves, the Gamma Phi Gamma house (led by Breaking Bad's Giancarlo Esposito) are tough but also slightly camp. Just don't tell them that to their faces! Memorable moments include the "Straight and Nappy" song, which was controversially accused of promoting racial stereotypes and got the director banned from filming at several black colleges. The finished cut of the movie also included an actual unscripted fight that was filmed happening on set between the cast members. Most real-life frats probably don't see that much action…
7. Road Trip – Xi Kai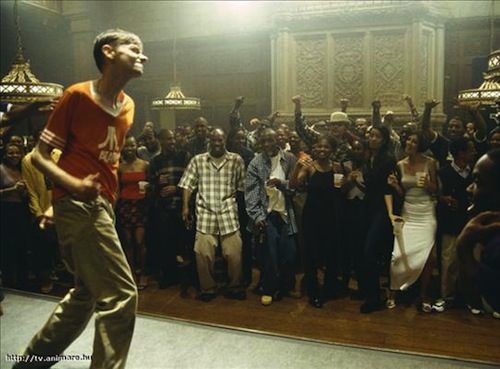 One of the few memorable scenes in the 2000 movie Road Trip was when the white main characters bluff their way into the Xi Kai fraternity house at the University of Tennessee only to discover that it's actually an all-black organization. Fortunately, the members turn out to be pretty awesome guys, and after an initial scare involving KKK hood hijinks, fun ensues – including secret handshakes, a dance party, and one of the characters losing his virginity to a rather large woman. (And, amazingly, it's not the guy who plays Stifler in the American Pie series. You might have thought that if anyone were going to have some success with the ladies, it would have been him!)
6. Revenge of the Nerds – Lambda Lambda Lambda
This classic 1984 teen comedy showed that superior intelligence could be applied to panty raids and seducing cheerleaders as well as maths and science. The premise: a gang of awkward "rejected" students decide to start their own fraternity house and take revenge on their jock rivals. This gang of misfits may have been geeky enough to make the guys from The Big Bang Theory look cool, but when put alongside the Neanderthal football players they looked positively suave – and at least they're clever enough to work a video camera (which they rig up in order to spy on sorority girls as they undress). Also, isn't "Lamba Lambda Lambda" the best name for a fraternity ever?
5. Van Wilder – Delta Iota Kappas
Nation Lampoon's Van Wilder continues the series' grand tradition of college movies with a large added dollop of scatological humor. This infamous 2002 flick stars Ryan Reynolds as an overage, under motivated and sex-crazy college student who starts a war with the established campus fraternity, Delta Iota Kappas, in order to win the heart of an attractive young journalist. The prank war culminates in a truly disgusting scene in which the head of the fraternity is fed huge amounts of laxative just before sitting a medical exam. But as the eponymous hero says, in a line that could sum up the entire frat philosophy, "You shouldn't take life too seriously. You'll never get out alive."
4. American Pie Presents: Beta House – Beta House
The sixth movie in the long-running American Pie series shifts the action to college and the younger members of the Stifler clan. Freshman Erik Stifler has to perform a series of semi-impossible, not to mention very disgusting, tasks to be accepted as a pledge at "Beta House" – reputed to be the wildest on campus (and considering it's an American Pie flick, that's pretty wild). While not as good as the first few movies (it's only the long-suffering Eugene Levy who really serves as a link to the original cast) it definitely portrays the kind of fraternity that you wish existed in real life. You've also got to love the Deer Hunter references in the "roulette" scene (hint: it's not bullets in that gun they're using…).
3. Old School – Lambda Epsilon Omega
This movie might well have been how the Frat Pack got its name. This 2003 follows three thirty-somethings attempting to regain their lost youth by starting a fraternity that anyone can join, up to and including 90-year-old men. And if you think most houses have strange initiation practices, these guys have one that is guaranteed to make men and vertigo sufferers alike hide behind the sofa (without putting to fine a point on it, it involves cinder blocks, tall buildings, rope and the male genitalia). Old School was also the first film to show the comic potential of Vince Vaughn, Luke Wilson and Will Ferrell in lead roles in the same movie. Mind you, at their age it's surprising that all those beer-bongs didn't give them heart attacks.
2. W. – Delta Kappa Epsilon
The George Bush biography W. took the unusual step of portraying an existing fraternity, the exclusive Delta Kappa Epsilon at Yale. And yes, from the film it looks as if their hazing rituals may seem a little extreme: dunking pledges in tubs of ice and pouring alcohol down their throats while forcing them to recite the names of everyone in the organization. But still, as the president of the society says, if you get through it all you will be recognized as a person of "honor, decency and god-given character." And hey, if it's good enough for Dubya it's good enough for everyone, right?
1. Animal House – Delta Tau Chi
The Godfather of college movies, 1978's Animal House still hasn't been beaten for the way it inspired different generations to chant "toga…toga…!" This classic National Lampoon comedy pretty much invented the most common frat movie characters: the crusty Dean, the snobby, upper-class rival house, and of course the archetypical hard-drinking, hard-partying fraternity – in this instance the riotous Delta Tau Chi. If you've ever wanted to watch a grown man drink an entire bottle of whisky, this is definitely the movie for you. John Belushi's gang of drunks and scoundrels may not have had the best grades in the university, but they definitely get the best grade on our list of fraternities in movies.