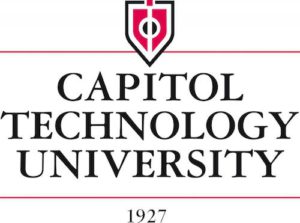 Online Degrees Available at Capitol Technology University
Capitol Technology University appears in our ranking of the Top 50 Most Affordable Master's in Computer Science Online.
Capitol Technology University began with the adult learner in mind, offering correspondence courses so that working adults could achieve their higher education goals. Today, Capitol Technology University offers both on-campus and online courses that provide flexibility to those who may have work or family obligations that make attending traditional classes difficult.
The Master's in Cyber and Information Security is offered in an online format that provides students with an understanding of how to create, manage and protect critical systems. Students learn how to protect both the corporate world and governmental agencies from cyber threats. Completing the program prepares students for the Certified Information Systems Security Professional examination. The program is based on the National Security Agency cybersecurity defense unit protocol. Students work on team-oriented laboratory projects and are able to contribute to exercises related to risk assessment. There is a $100 application fee for the program.
The Doctorate in Business Analytics and Decision Sciences at Capitol Technology University is offered almost entirely online. Students gain an understanding of the impact of decision science from both an industrial and institutional perspective. Students are able to use high-level critical thinking to provide insight to others based on management and decision science. Courses are taught by faculty who actually work in the field which allows them to bring hands-on knowledge into the classroom. Students must take Contemporary Research and Management as well as Security of Information on campus. They must also present and defend their dissertation on campus. There is a $100 admission fee for the program.
Other degree programs available at CTU include a Bachelor of Science (BS) in Unmanned and Autonomous Systems, Bachelor of Science (BS) in Cyber Analytics, Masters of Science (MS) in Critical Infrastructure, Master of Science (MS) in Computer Science, and many more.
About Capitol Technology University
Capitol Technology University began in 1927 as Capitol Radio Engineering Institute. Eugene H. Rietzke, a Navy veteran saw the need for an institute of higher learning that would produce talented technicians for the radio and television industry. A radio operator himself, Rietzke opened the college as a correspondence school but, by 1932, realized that students were in need of hands-on laboratories. A campus opened in Washington, DC to provide programs that included laboratory work.
After World War II, Capitol Radio Engineering was one of three technical schools accredited by the Engineers' Council for Professional Development. In the mid-1950s, the school began offering Associate in Applied Science degrees and, in 1964, the name changed to the Capitol Institute of Technology. In 1969, the school moved to Kensington, Maryland, utilizing leased space.
Enrollment grew rapidly, requiring the school to add additional programs. As enrollment grew, the need for a permanent campus became evident. In 1980, the school agreed to purchase land in Laurel, Maryland, buying the Beltsville Speedway, a 52-acre site, over the next three years. In the late 1980s, to better reflect the programs offered, the name of the school changed to Capitol College. The first doctorate degree, offered in an almost entirely online format, was launched in 2010. In 2014, the school was renamed Capitol Technology University.
Today, students attend Capitol from 19 states and several foreign countries. Ages range from 16 to 61 and 60 percent of undergraduates come from underserved populations. The school has been named a National Center of Academic Excellence in Information Assurance Education by the Department of Homeland Security and the National Security Agency.
Capitol Technology University Accreditation Details
Capitol Technology University is accredited by the Commission on Higher Education of the Middle States Association of Universities and Schools. Regional accreditation indicates to parents, students, and employers that graduates have received a quality education in the field they have chosen to enter. They are well prepared for leadership positions in their industry. The Bachelor of Science degrees in engineering, including electrical, astronautical and computer, are accredited by the Engineering Accreditation Commission of Accreditation Board for Engineering and Technology. The agency also accredits the undergraduate degree programs in computer and electronics engineering technology. The International Assembly for Collegiate Business Education accredits business programs at Capitol.
Capitol Technology University Application Requirements
Students who have not received credit for college courses after high school graduation are considered first-year students at Capitol. Students must complete an application and, if they are under the age of 22, submit official ACT or SAT scores. There are two applications, one for full-time and one for part-time students. There is no application fee. Students must have official high school transcripts sent as well. Transfer students are those who have earned college credit after high school graduation. They must also complete either the full- or part-time application and submit official high school transcripts. If the student is over 22 years of age, ACT or SAT scores are not required. Official transcripts from all institutes of higher learning attended must be provided, however.
Graduate students must hold a bachelor's degree or higher to apply to Capitol Technology University. Students must have a cumulative GPA of at least 3.0 on a 4.0 scale. Students who do not have a 3.0 GPA may be admitted to some programs on a provisional basis. Students must complete the application and provide transcripts from all colleges and universities they have attended. All graduate applicants must attend a virtual information session as well. Although it is rare, some programs may request official GRE scores as well.
Tuition and Financial Aid
Undergraduate tuition varies depending on the program the student chooses to enter. Tuition rates are as follows:
Active Military – $250 per credit hour
Business & Management – On-campus or online – $433 per credit hour
Business & Management – Satellite campus – $288 per credit hour
Engineering, Computer Science & Technology – Full-time $11,994
Engineering, Computer Science & Technology – Part-time on-campus or online – $789 per credit hour
Engineering, Computer Science & Technology – Satellite campus – $526
Graduate tuition is as follows:
Master's Programs – $585 per credit hour
Doctoral Programs – $867 per credit hour
Financial aid offerings include institutional scholarships that are normally merit-based as well as corporation and foundation scholarships, each with its own criteria for eligibility. Five incoming freshmen are selected for the Capitol Scholars Program which provides a full four-year scholarship. Students may also qualify for federal grants and loans. Capitol Technology University also participates in federal work-study programs where students earn money toward tuition. Veterans benefits are accepted as are employer tuition reimbursements. The FAFSA must be completed to qualify for any financial assistance and it must be renewed each year.
Capitol Technology University graduate students may also be eligible for the Yellow Ribbon Program, the Blue Ribbon Program, National SMART Grants, scholarships, loans, and other grants.